We provide a complete gas fire installation service throughout the entire Melbourne area. Our specialised team at Just Gas Log Fires have been providing gas fire installations in homes and commercial properties carrying over 20 years of industry experience. Our design consultants will assist in the choice of styles and textures to suit your property and the installation of your chosen gas fireplace model giving you the peace of mind knowing that the job will be done properly in accordance with Australian safety regulations. Entertain and unwind with a wooden log fireplace.
Why Choose a Gas Log Fireplace?
It is good to remember that a gas-powered fireplace is a clean-burning alternative to the old wood-burning stoves and offers a high degree of energy-efficiency. Gas log fires can run off either LPG or natural gas to suit the existing configurations on your property. They are also relatively maintenance free and provided years on years of warmth and comfort come winter time. Gas log fires are a worthy investment adding value to your property in the long run.
We can Install a Gas Fireplace in Your Home
We are able to advise on the design, location and installation of your gas log heater as well as operating ongoing maintenance services for mature gas fires. Gas Log Fire installs leading gas log fireplace brands from freestanding to inbuilt models helping to achieve the look you desire, whether you prefer a modern or timeless ambience. If you would like to view some of the gas fires we have installed, get some inspiration by viewing our gas fire installation gallery.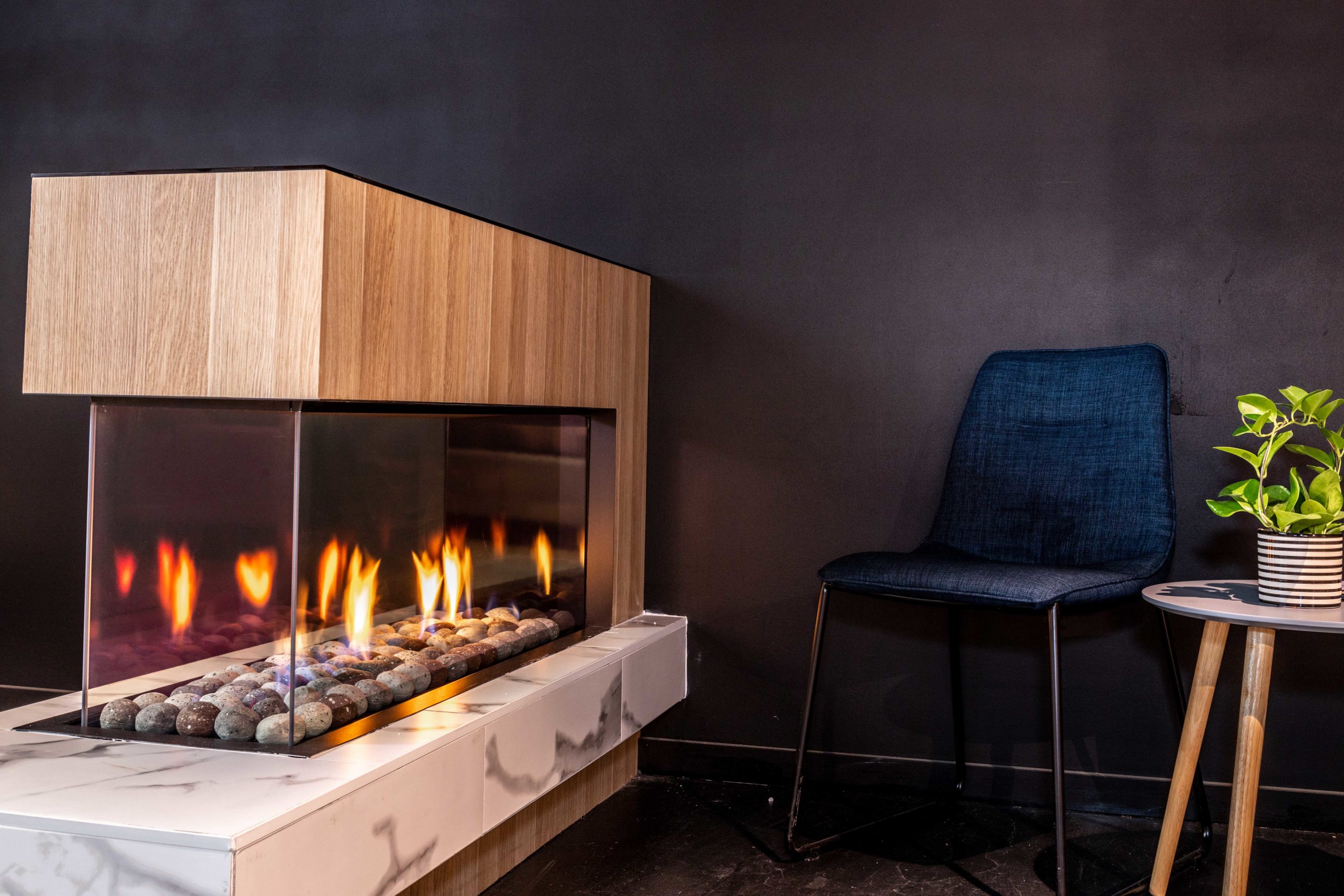 Medium to Large-scale Commercial Projects
Beyond gas fireplace installations for private residences, we also provide a full service for all commercial needs, for new and existing buildings including but not limited to, retail outlets, apartment complexes and restaurants. Having delivered on a diversity of large-scale projects, our on the ground team are well seasoned in installing different brands of fireplaces and in working with other tradesmen on site. To ensure safe and legally compliant installation of gas log fireplaces in properties under construction or newly-built, we are capable of providing advice on the appropriate locations and terminations for flue runs.
Gas Fire Exhaust & Flue Installation
The extraction of the gas fire exhaust and pollutants can be facilitated in a number of ways, the most common being vertical flue which is a chute that runs directly up through the ceiling or chimney. In some instances, certain fireplaces may utilise flexible flue, which would allow the extraction to take place horizontally or change direction multiple times, allowing for greater freedom when designing a space. This works in conjunction with a powered fan, allowing for far more creative flexibility. Nonetheless, we work with the design, layout and measurements of your space or property when installing flues and can even install walls to disguise the flute where desired.
Leading Gas Log Fireplace Installers
Our fireplace technicians are Melbourne-based and advise on the design and positioning of your gas log fireplace for maximum efficiency and benefit. We offer rendering services and alternatives and can deliver on design features such as modern interior wall room dividers. All our work is carried out by qualified gas fireplace installer professionals, who can work with any physical constraints to achieve your desired outcome. All our installations are checked and regulated by respective governing bodies to ensure all current Australian legislation and manufacturing standards are adhered to.

Through our years of experience, there has never been a challenge we could not overcome or an installation that we considered as too small or big. Through both residential and commercial projects, we have always delivered to the satisfaction and delight of our clients. Whatever your situation, we are ready to help, please feel free to get in touch with one of our consultants who will provide you with a free no-commitment estimate to help you understand associated product and installation costs. They are also there to support any enquiries you may have regarding design choices and gas fireplace installation.